Farther Along (We'll Understand This)
Here is a poem I wrote based on my experience listening to a favorite song of mine. This song, in part, got me through 9 months of a very difficult pregnancy. I listened to it nearly every day, and I think it made me cry every time. It helped me cling to Jesus and  fueled my hope. Hard times don't last forever, even when it feels like they will. So many dark days piling up on heaps upon each other, so often feel as if they will never come to an end. You ask why- Why does it have to be so hard? And so long? And so constant? And for what good?
As William Cowper said "Blind unbelief is sure to err and scan His work in vain; God is His own interpreter and He will make it plain." One day, whether soon or late, we'll understand the reasons why.
"Farther along,"
I sang,
"I'll understand this,"
And like coursing currents
Came those certain words-
Like fuel in my veins,
Like sap for my soul,
Like exhileration breaking through
A dead man
Came the words
"I'll understand why,"
And with relief my heart
Did fly-
The laughter broke,
My daughter spoke:
"Don't cry mom," she said
And I said-
"I'm crying 'cause there's hope
My love,
Sometimes we cry for hope."
At the beginning of my pregnancy I wrote "Blessings In Those Dreaded Clouds," and said:
… One day these clouds
Will split and light
Return and end
This long night.
So I waited. I waited for this little love to enter into this world and break the storm clouds with blessings over my head. And she has, in more ways than I could possibly express. Welcome to the world sweetie-pie, you were worth all the trouble, and the wait.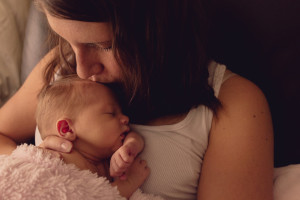 Psalm 138: "The Lord will fulfill His purpose for me; you steadfast love, O Lord, endures forever. Do not forsake the work of your hands."