Who Will Deliver Me?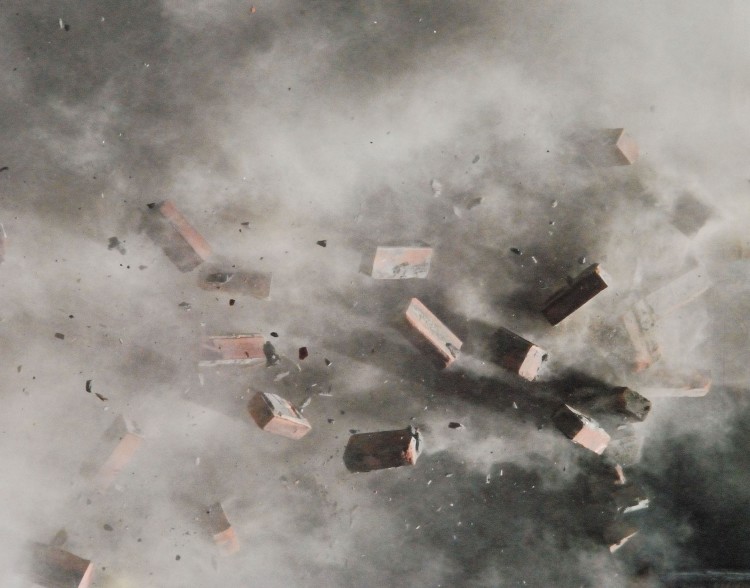 Oh sin, that dwells within
That wages war and threatens
To destroy my joy,
'Tis sin that seeks to win
The battle and mock at my defeat.
Oh sin, that enemy within
Crashing through my great resolve
Outpouring words, I've cringed and heard
Them, hasty and marking me a fool.
Oh sin, that dwells too close at hand!
That bids me in captivity to stay.
My righteousness it seeks to snuff
And hold all my good desires at bay.
A fugitive in mourning, I recant!
But this surrender meets me with that ancient foe
And though I'm spent with sorrow
He does not relent,
But presses me and points
To shame that I already know.
There I raise my eyes and cry
"Who will deliver me?"
Then see the cross rise mighty
And valiant, shattering through war torn debris.
The dust clears and through tears I see
Where my redeemer stands,
A refuge and strong tower,
Before Him all my enemies scatter,
With scars on his hands
And "King of Kings" writ on his thigh
Blessed be my rock, and exalted high
My God who brings salvation.
Abba, Father, He will not disown
His children weak and burdened down
With sin; in faithfulness He will
Forgive again.
He who His own Son did not spare
Will keep us in His loving care.
Oh sin, that dwells within
Dominion is to you no longer.
No condemnation may you threaten
Nor by the law wield your power
And sting by tyranny of death,
"O death, where is your victory?
O death, where is your sting?"
Though I shaped in iniquity
God's Spirit now abides in me,
To put to death all deeds of flesh,
And through Him conquer all.
In this hope I'm saved
Groaning inwardly, waiting eagerly
For that great unveiling day
When from bondage to decay
I'm saved to sin no more.
Romans 8:20-25 "For the creation was subjected to futility, not willingly, but because of Him who subjected it, in hope that the creation itself will be set free from its bondage to decay and obtain the freedom of the glory of the children of God. For we know that the whole creation has been groaning together in the pains of childbirth until now. And not only the creation, but we ourselves who have the firstfruits of the Spirit groan inwardly as we wait eagerly for adoption as sons, the redemption of our bodies. For in this hope we were saved. Now hope that is seen is not hope. For who hopes for what he sees? But if we hope for what we do not see, we wait for it with patience."
1Corinthians 15:49 "Just as we have borne the image of the man of dust, we shall also bear the image of the man of heaven."
*See also the whole Romans 7 & Romans 8, and Psalm 18
*Also inspiration from hymns "A Mighty Fortress is Our God" and "There is A Fountain Filled with Blood."